January 2016  started with a weeks stay in  Tamworth, Australia for the Legacy of Legends event. It was an exceptional 3 day event and well supported by the southern hemisphere audience with numbers bigger than the first Legacy of Legends event held in Tamworth in 2014.  It was also great to see many friends from the U.S. make it across to Australia for this event.  It may have been just to escape the winter of the Northern Hemisphere. Carolyn Hunt & Buck Brannaman have bought this event across from the U.S. with the enormous help of  Anthony and Deb Desreaux in organizing it.
The schedule consisted of colt starting, horsemanship, cow working  and roping sessions. The image below was from the last morning session of the colt start and was of Buck helping me to get on this filly from the fence. The presentation that Buck gave using this filly and explaining what was taking place was a topic of conversation for many of the audience. A few of the comments Buck made during the presentation were about the importance of changing eyes and not pushing and having good flexion when bringing the forequarters though plus the placement of the feet. While the session did not start here and was a little western at the beginning, to feel the difference in this horse at the end was exceptional. It is difficult to put all the lessons into words and for many the lessons would have been a more visual.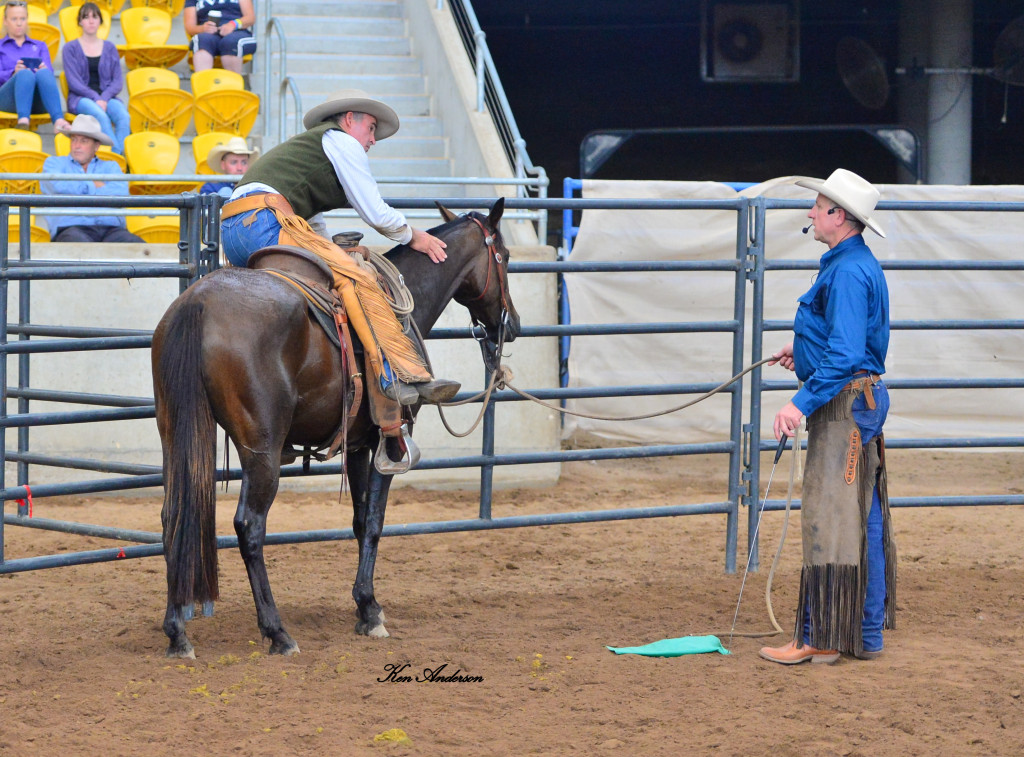 After Tamworth it was off to Southport on the Gold Coast in Queensland, not for the Magic Millions but for the annual state pony club conference held at the Southport Pony Club grounds.  The Qld State Pony Club have been holding horsemanship courses throughout the state for a number of years now. They are to be commended for seeing the importance of horsemanship in their curriculum.
In  February I have horses coming in for starting,  plus cattle work with a lesson day in early February at my family's cattle station. I also have a 4 day horsemanship & cow working course at the end of March at home as well. For more information please email me at info@davidstuart.com.au
I wish everyone a happy and healthy new year and look forward to catching up through out my travels during the year.