Well what a difference a month has made for all of us. I trust that all are well and healthy and no doubt we are trying to make the necessary adjustments to working from home.
Australian courses for April have been postponed to later dates that are yet to be determined, young horse intakes are still continuing. Anyone wanting horses started in Australia please contact me at info@davidstuart.com.au
Tina and I are hopeful that we can continue with a revised U.K. schedule starting in September. There is a proposed schedule up on the website, this may change overtime. We thank you for your understanding and continued support in these ever-changing times.
March was a busy month with young horses and we were able to get the Brisbane Foundation course completed before travel restrictions etc came in. On a personal note my fiancee, Rachael, and I were married in Brisbane. It was a wonderful day and we both had our families in attendance.
I have added a horsemanship article as well below. I hope all enjoy, stay safe and healthy.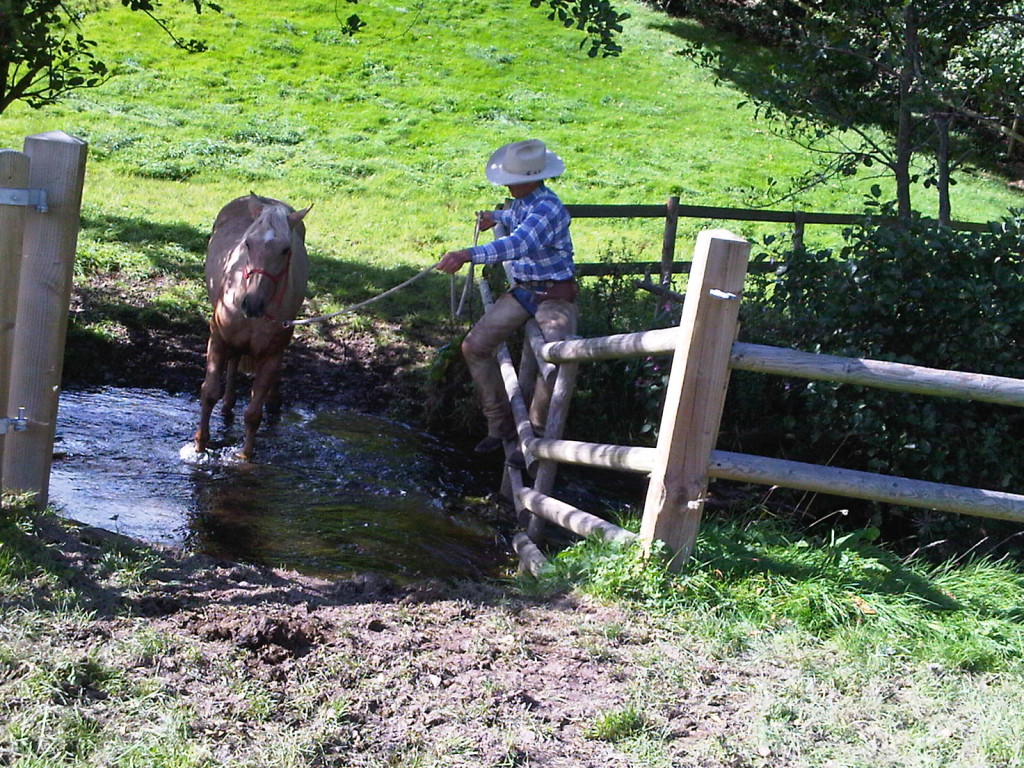 The image above was of a young horse in the U.K. that could get to bucking and he was not going to give it up after a couple of saddlings.
My understanding is that riders in the U.K. are now spending more time on the ground due to current restrictions. So perhaps and article of this nature is helpful to many.
Most people have a ground school repertoire of one one nature or another. For many though this is still just lounging their horses around in circles with the odd jump etc thrown in.
Zac, the horse above was not a horse that you could just lounge around and get on, you had to build his confidence and trust. Getting to where he was able to go across a stream was not easy for him. He would get to where he would not move his feet and then explode. Some horses when they get scared instead of running, they stand still and then can explode and be quite violent.
When ever I get a horse that does not lead well or follow a feel, or dull I am understanding of the above. Being able to keep the feet freed up and the horse thinking down to their feet is vey important. It is sometimes not about running your horse around more, but getting them to where they are following a feel, not leaning on the lead rope. See if they will cross a stream without running through it , walk over a tarp without rushing. See if you can get your horse to sidle up to a fence. How well does your horse load, how well does he or she catch to halter. How well does your horse pick his or her feet up for trimming , shoeing etc. Notice the rhythm and cadence of your horses movement.
Prepare your horse for riding, through what you do on the ground. Ground work and ridden are the same and should not be thought of as different topics.
Because of the ground work, consisting of many of the above suggestions I was really pleased to see Zac's owner be able to ride Zac. Many of you know Zac and his story, he was a horse that had a lot to teach us all.
Finally, please stay safe out there with your horses. Equally, keep healthy and I look forward to catching up with you all on the other side.